Mike Smith: Brent Grimes Is Ageless
May 12th, 2016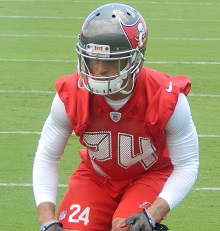 Defensive coordinator Mike Smith told a fun story this afternoon at One Buc Palace.
It centered around having dinner recently with Bucs Pro Bowl cornerback Brent Grimes and his superwife, Mike Grimes.
Joe asked Smith what it's like to coach Grimes, who he led while head coach of the Falcons.
"Grimes is an extremely good athlete. I like to say he's short but he plays big," Smith said. "This is a guy who's been to multiple Pro Bowls. He has great jumping ability. He plays much bigger than his measured height. He's quick out of his breaks, and he's one of the fastest and quickest defensive backs I've ever been around."

Does he look the same to you? Joe asked via a quick follow-up.

"Absolutely he does," Smith replied emphatically. "I was out to dinner with him and his wife, and he looks like about a 20-year-old. Someone thought he was my son, the way they were asking questions. He is a guy who wears his years well."
It's good hear that Smith and Miko and the Bucs' 2015 Pro Bowler are all one happy family. That bodes well.
If Grimes is his Pro Bowl self this season at 33 years old, then Jason Licht will have done a stunning job ruining Rex Ryan's offseason.