Kurt Warner: "Impressed" But "Not Surprised"
May 23rd, 2016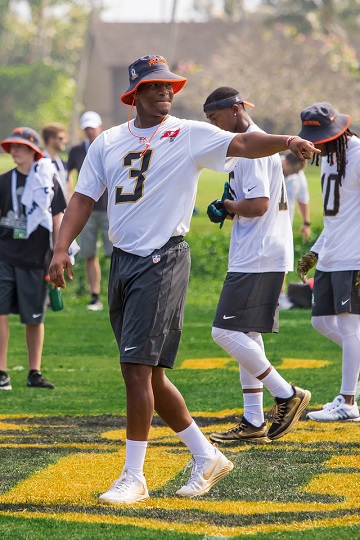 Super Bowl winner and two-time NFL MVP Kurt Warner has been studying America's Quarterback, Jameis Winston.
And Warner shared his observations with Paul Ryan of WFLA-TV, Ch. 8.
"I was impressed. I'm not saying I'm surprised, though." Warner said of Jameis' rookie season.

"What I saw in college was very much what I saw through the whole rookie year. Early on in the season last year, you saw him trying to maybe do a little too much, trying to force some things. And really trying to, I think, figure out, 'What can I get away with at this level that I got away with at the last level?'

"It cost him a little bit early with some interceptions, and they struggled a little bit early. But then you saw him grow into the position. You saw the leader that he was. You saw his ability to grasp an offense and continue to expand as the season went along. So I'm very excited with where he's at after his rookie year. Very excited about the impression he made as a young man, not just as a quarterback.

"I've been fortunate to get to get know him a little bit over this time and just really been impressed with how he carries himself and the work he's willing to put in."
Yes, Jameis continues to impress players in the NFL community, as well as the quarterback community. It's impressive. Earlier this year, credible reports had Jameis hanging with Warner at a religious retreat.
On whether Jameis will make a big leap in 2017, Warner said he's simply looking for improvement but acknowledged many QBs make giant strides from Year 1 to Year 2.
"You hope he's not a finished product [in 2017,] Warner added.
That comment struck a sore spot in Joe. Josh Freeman was a stunning star of quarterback in his second season at 22 years old, winning 10 games and tossing 25 touchdowns versus just six interceptions. But Freeman that was the clear pinnacle of Freeman's career.