Jameis Focuses On Faith
March 5th, 2016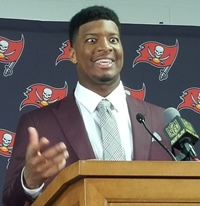 America's Quarterback, Jameis Winston, has traveled across much of the continent to join Kurt Warner and others in some deep spiritual time.
BlackSportsOnline.com and TMZ.com team up to share the news here.
It seems Jameis traveled to this famous religious retreat with his girlfriend, and she shared their baptism together on Instagram.
What a menace this Jameis is! How could the Bucs think of drafting such a monster!
Per Black Sports Online, the event was The Pro Athletes Outreach, geared "towards couples who pray together, attend workshops and listen to religious and motivational speakers."