"And Coach Smith, For Sure"
May 31st, 2016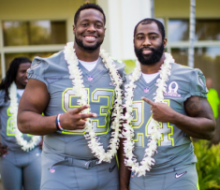 Renowned penalty-prevention guru Mike Smith talked "penalty production" earlier this month.
While Smith emphasized head coach Dirk Koetter is laying groundwork so the Bucs can halt their ridiculous number of flags, Gerald McCoy had a different emphasis.
With tone of voice and words, McCoy explained that Smith is the biggest voice on the penalty thing, and McCoy acknowledged there's a difference from the days of Coach My Scheme.
JoeBucsFan.com: So far, what kind of different emphasis have you felt, if at all, on cutting penalties or reducing penalties from the new staff?

Gerald McCoy: Oh, yeah. That's one of the biggest things that they've been talking about is penalties. Regardless of what the penalty is, you know, we were what[ranked] 31st [in the NFL]? … We were really low; we were just not good when it came to penalties. So we were at the bottom of the totem pole when it came to that, so we have to be a lot better. Coach Koetter has been emphasizing it and Coach Smith, for sure. He says you can't be a top defense with letting guys start a drive, you know, whether it's field position or if you give a team a 3rd-and-2 as opposed to a 3rd-and-7, that can really mess you up. So penalties have been highly emphasized, for sure.
For three consecutive seasons, the Bucs have committed an eye-popping number of penalties en route to losing 36 games in those three years.
Joe can hardly remember what a sound football team looks like. What a gift it would be to see the Bucs with under 100 penalties this season.