Will Fuller And The Bucs
April 6th, 2016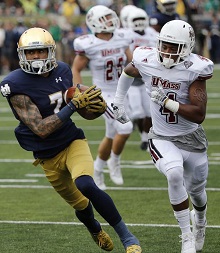 General manager Jason Licht plays Santa Claus for Bucs fans in 22 short days.
The NFL Draft truly is Christmas in April, and Joe is wondering what will be under the tree of America's Quarterback, Pro Bowler Jameis Winston.
The thinking-man fan might say Jameis will be gifted gobs of defensive talent that will help preserve his body by keeping him off the field. But there are other fans that would prefer the Bucs make the bold move of stockpiling weapons of mass destruction for Jameis.
What would the Bucs' top-10 offense look like after adding a rip-the-cover-off-the-defense receiver?
Yesterday, very well connected former scout and current NFL Network draft guru Daniel Jeremiah Twittered that he expects Notre Dame receiver Will Fuller to be the first pass catcher off the board later this month.
Fuller is all about speed. He was a massive deep threat last season with 1,258 yards on just 62 catches. Fourteen went for touchdowns. Eyes popped at the NFL Scouting Combine when he cranked out a 4.32-second, 40-yard dash.
Here he is against mighty Ohio State and their A-list talent. Fuller makes them look like Girl Scouts chasing a puppy.
Perhaps more important, Fuller caught 17-of-28 balls last year on passes of greater than 20 yards, per the reliable CFBFilmRoom.com.
But he's known for having K-Y hands. The Bucs, however, claim they're not worried about lube issues with Mike Evans and believe they have a cure.
Many consider Fuller a late-first-round pick, and Joe could see the Bucs trading down to acquire Fuller and the picks they need to reel in pass rushers in a deep class of defensive ends. No, Joe doesn't think this is likely. But there isn't a team in the NFL that wouldn't shake in their shoes watching the Bucs line up a true burner to complement Vincent Jackson and Evans on the field together.
Perhaps Licht sees what a gift that would be for the franchise quarterback — and the franchise. Joe has no problem winning games 31-28.