Week 2 Preseason Date/Time Is Finalized
April 12th, 2016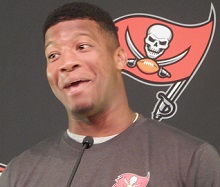 Tell your girlfriend to make plans now if she's not up for the excitement of Week 2 preseason football on a Saturday night.
Another nugget of detail has been released on the Buccaneers' preseason schedule.
The Week 2 date-time has been finalized. The Bucs will play in Jacksonville on Saturday, Aug. 20, at 7:30 p.m. The game will air live on WFLA-TV, Ch. 8. Six days later, the Bucs' preseason home opener will kick off against the Browns at 8 p.m., nationally televised on CBS.
Exact days and times have not been set for the preseason opener in Philly, or the finale in Tampa against the Redskins, featuring future luggage handlers, shoe salesman, bouncers and bloggers.