Still Here
April 28th, 2016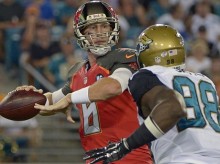 The Mike Glennon Mob won't get to free their beloved son yet.
The first round has nearly come and gone. Those teams that needed quarterbacks? They weren't coughing up anything acceptable for good ol' No. 8.
Tomorrow's a new day, though. Maybe the Jets get nervous. Denver already traded up to snag Paxton Lynch at No. 26 overall.
Joe highly doubts Glennon is dumped. The biggest obstacle to a Glennon deal, other than him not being very good, is that one year left on his contract. That simply makes him unattractive on the market.
If Jason Licht had a deals on the table for Glennon last year, or the year before, as was reported, then he waited too long.