Sterling Shepard Is "In Play"
April 8th, 2016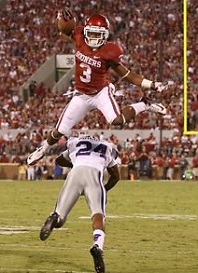 You'll find Joe offering sacrifices to the football gods and buying friends whiskey if the Bucs draft Sterling Shepard later this month.
America's Quarterback, Jameis Winston, deserves fortification of his thing receiving corps, in addition to the electricity, great hands and the fantastic complement Shepard could bring.
Helmet Hair draft guru Mel Kiper, in a recent behind-a-pay wall mock draft for BSPN, says the Oklahoma wide receiver Shepard is "in play" as a potential second-round pick.
Joe likes Shepard's eye-popping pedigree that includes 233 catches at Oklahoma. Per NFL.com, he only dropped eight balls in college through all those targets. Shepard's father was an NFL receiver, and his older brothers played at Oklahoma. Joe likes those legacy guys. They're usually fundamentally sound.
Yes, the Bucs need a standout defensive end as much as Joe needs the comforting embrace of a cheerleader, but they also need more talent around Jameis. He deserves it. Bucs fans deserve it. And Joe has yet to see a team go wrong drafting a franchise quarterback and loading up with offensive talent.
Keep in mind Jason Licht tried to draft a slot receiver/No. 3 receiver in 2014 (Robert Herron, sixth round). And he arguably did it again in 2015 (Kenny Bell, fifth round). Perhaps this is the year Licht gets very serious about it.