Riding The First Round Wave
April 1st, 2016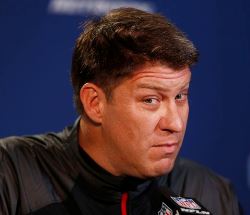 Joe has been a broken record for how the Bucs must draft an edge rusher (or two).
Yes, we are 27 days from the draft, and it happens this month (it can't come soon enough).
What the Bucs do at No. 9 is anyone's guess. A lot of folks believe the Bucs may draft a cornerback at No. 9 because the draft is do deep at defensive end. That's true.
Again, there's no way to know until the first eight picks shake out. But Joe's good friend Justin Pawlowski of Scout.com has a novel idea. Perhaps some quarterback-hungry team will want to work a trade with the Bucs and not for Mike Glennon.
@CommishOnline I'm not a member of "just trade down crowd," but if top 6 non-QBs are gone before #Bucs pick at 9, they should desperately try to trade down
Joe assumes Pawlowski is referring to Memphis quarterback Paxton Lynch still being on the board. He is largely thought to be the No. 3 quarterback in the draft.
But would picking Lynch at No. 9 be a reach? He's thought to be a late first round or perhaps early second round type of talent.
Then again, people are desperate for quarterbacks. How else can one logically explain trash like Stewart McClown and Ryan Fitzpatrick commanding seven-figures?