NFL Braintrust Says Bosa To Tampa Bay
April 24th, 2016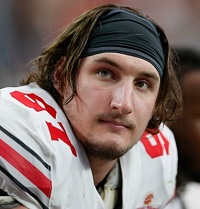 Could it be, after all the half-joking chatter last year about a "Bolt for Bosa" on the heels of the Chase for Jameis?
It seems the stars are aligning.
NFL Network and NFL.com gurus gathered in a room and dove deep into a video-style mock draft today. The result was very much in line with the way Joe believes the top-10 draft cards will fall.
After quarterbacks Carson Wentz and Jared Goff go Nos. 1 and 2, respectively, the assembly has manbeast defensive end DeForest Buckner going to San Diego at No. 3, followed by Ohio State stud running back Ezekiel Elliot making Jerry Jones' fantasies come true.
At No. 5, the selection was linebacker Myles Jack to Jacksonville, which jibes with all the heavy chatter coming out of Jags country. Left tackles are snagged by the Ravens and Niners, with the Browns grabbing mind-blowing defensive back talent Jalen Ramsey at No. 8.
And that leaves Joey Bosa for the Bucs. The 20-year-old, two-time All-American from Ohio State is a 6-5, 270-pounder with a ton of polish and a strong motor.
It's a dream scenario for legions of Bucs fans, as they collectively yearn for a legitimately dangerous presence off the edge.
Certainly, Bosa is worth the shot. Aside from the production in college, Joe loves guys like Bosa who come from NFL families.