Mike Glennon Is Off The Clock
April 30th, 2016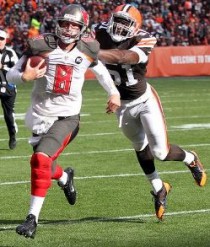 Welcome to the sixth round of the 2016 NFL Draft.
Mike Glennon officially is off the clock.
Welcome back, Mike! And it'll be another year of anxiety for the Mike Glennon Mob, which hoped its favorite son would be set free to more fruitful pastures.
There's no way Jason Licht trades Glennon today, not for a sixth- or seventh-rounder. Glennon is almost sure to ride out the final season of his 2013 rookie contract in Tampa.
No. 3 QB Ryan Griffin knows the Bucs' system after riding the pine all last year with Tampa Bay. He's also well respected by the team and America's Quarterback, Jameis Winston. Joe figures he'll stick around, too.