Friday Afternoon Laughter
April 22nd, 2016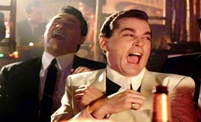 In what may be an effort to justify upgrading their Excel software, the PFF tribe cobbled together a draft board for every team.
Yes, the Bucs are included.
Chief spreadsheeter and former minor league baseball pitcher Steve Palazzolo believes the three players the Bucs should strongly consider with their No. 9 overall pick are Baylor wide receiver Corey Coleman, Clemson defensive end Shaq Lawson and Mississippi State defensive tackle Chris Jones.
Joe will start with Coleman.
Now Joe would not lose a wink of sleep if the Bucs drafted a wide receiver. The Franchise, America's Quarterback, Pro Bowler Jameis Winston, needs weapons. But Coleman at No. 9 is beyond a reach (although watching the complete freakout and meltdown of the best-available-player crowd might be worth the selection just for entertainment purposes alone). Nowhere, and Joe means nowhere, can Joe find a reputable outlet labeling Coleman worthy of a No. 9 pick.
In fact, Joe spoke with a trusted NFL suit at the NFL Scouting Combine and asked about Laquon Treadwell and Coleman. Joe was told late first round at best, and the source thought Coleman was no better than a high second-round pick.
To suggest that Coleman is a No. 9 pick borders on outrageous and is, in fact, high comedy.
Second round? Sure. No. 9? BUHAHAHAHAH!
As for defensive tackle, Joe doesn't get where this sudden infatuation comes from. The Bucs already have a stud there in Gerald McCoy. Clinton McDonald and Akeem Spence are serviceable starters.
Could the Bucs use depth there? Sure. But not at No. 9 while ignoring the Grand-Canyon-like hole at defensive end, unless Bucs AC/DC-loving general manager Jason Licht thinks a defensive tackle taken at No. 9 can move outside on passing downs and rack up sacks.
The only logic Joe can imagine for drafting a defensive tackle at No. 9 and ignoring an edge rusher is that this dream is being hatched by the GMC haters, hoping drafting a defensive tackle at No. 9 leads to GMC being cut. That's the only way such a selection makes any sense.
And, no, GMC will not nor should not be cut.