Evans Says "Dumb" Is Unacceptable
April 11th, 2016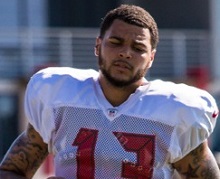 The Bucs are back to work and Mike Evans is among the Buccaneers talking this afternoon at One Buc Palace.
Evans had plenty to say, but one subject addressed was his challenges managing emotions last season. That's a nice way of saying losing it on the field, which Evans did too often.
Evans says his emotions will stay the same "but there's a difference between passion and being dumb and being hotheaded. I got to find that happy medium. I think I will this year."
It was a pretty mature take from the 22 year old.