Dirk Koetter's Magic, Disturbing Number
April 1st, 2016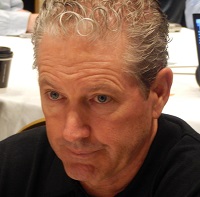 We all know Dirk Koetter is no stats guy and loathes spreadsheets, so it was noteworthy when the Bucs head coach volunteered a rarely-heard number last week.
Speaking to Joe and reporters at the NFC Coaches Breakfast, Koetter noted how little continuity he had on offense last year.
Sure, America's Quarterback, Jameis Winston, stayed healthy. But Koetter noted how the Bucs used 37 different personnel combinations.
Hard to believe it was so many, but Koetter emphasized the X-factor of needing to use versatile offensive lineman Kevin Pamphile as an extra tight end. Koetter didn't talk go into injuries or try to use them as an excuse, but obviously, that was the driving force in all that on-field diversity.
It makes Joe wonder what the Bucs' top-10 offense might deliver in its second season under Koetter — with added talent (hopefully) and better health.