Bucs' Newest & Oldest Player: Jameis Is "Legit"
April 14th, 2016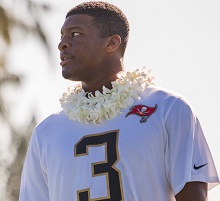 The new old man of the Bucs' defense, linebacker Daryl Smith, is a quiet guy with an extraordinary reputation across the NFL.
So, of course, Joe asked Smith today what his impressions are of America's Quarterback, Jameis Winston.
Smith's reaction? An instant smile and a short answer, "Legit."
Then Smith went on to repeat the word and say he watched Jameis from afar and up close he's the real deal.