Another Dunkaneer?
April 5th, 2016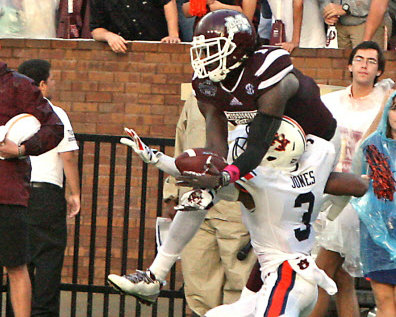 Who could forget when Bucs general manager Jason Licht smiled and coined the phrase "Dunkaneers" during the 2014 NFL Draft.
Tampa Bay had just drafted Mike Evans and manbeast tight end Austin Seferian-Jenkins to team with Vincent Jackson. It was the union of three giant target, all former accomplished basketball players.
Josh McCown was going to kick some ass!
The Dunkaneers have yet to scare the NFL, but Licht might remain enamored by big receivers.
The Bucs, obviously, are hurting for receiving depth and there's a another draft in 23 short days.
That brings Joe to another basketball player, a projected sixth-round pick from the SEC. He's 6-5 receiver De'Runnya Wilson out of Mississippi State.
Wilson is an interesting prospect. You can't teach height and length, but Wilson also was the slowest receiver at the NFL Scouting Combine, running a 4.85-second, 40-yard dash. Still, those are goofy track numbers. He had 10 touchdowns last year, and is considered a highly athletic prospect still learning the game after a late start.
Joe will let lovely Amanda Borges take it from here, via the GridironNow.com video below. Joe would not be shocked if the Bucs gambled on a receiver or two on Day 3 of the draft — unless Roddy White is signed before then.