"A Fourth-Rounder Should Do The Trick"
April 5th, 2016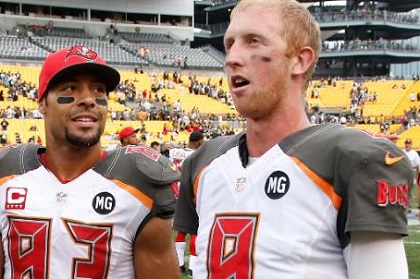 Draft-day trade winds are being thoroughly sniffed by the Around The NFL crew at NFL.com.
And they don't buy what Buccaneers general manager Jason Licht is selling.
In a recent look at potential trades, Marc Sessler thumbs his nose at any notion the Bucs wouldn't trade Mike Glennon for a fourth-round pick.
Mike Glennon to the Jets for a mid-rounder in '16

Mired in a standoff with Ryan Fitzpatrick, it's time for the Jets to consider other options under center. Reports have New York sniffing around Josh McCown and Brian Hoyer, but the most promising option resides in Tampa Bay. No matter what the Bucs say, Mike Glennon can be had for a reasonable draft pick — a fourth-rounder should do the trick — giving Gang Green a 26-year-old passer with 18 starts under his belt. His tape isn't perfect, but the tall-as-a-tree Glennon — he's 6-foot-7 — offers a cannon arm and plenty to work with for offensive coordinator Chan Gailey.

Jets fans might be wedded to the idea of Fitzpatrick and his tremendous beard returning to Gotham, but why not get a younger quarterback with more long-term upside? — Marc Sessler
First, it's damn ironic to think of the magic Chan Gailey worked with the Jets offense last year while Lovie Smith refused to considering talking to Gailey after Jeff Tedford was lost for the 2014 season. No, no, no, Lovie was just fine wasting fans' time with ill-suited playcaller Marcus Arroyo.
As for trading Glennon for a fourth-round pick, Joe would have to think twice about that low price. But what can the Bucs really expect for a marginal quarterback whose contract has just one year remaining?
Joe hopes the Bucs find a better home for Glennon than New York. If he replaces Fitzpatrick, chronically angry Jets fans — and media — will be all over Glennon after his first rough outing.