The Cowboys And Doug Martin
March 9th, 2016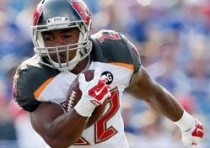 Interesting typing in the Dallas Morning News.
It's all right here from the big newspaper in Big D. They quote Dolphins beat writer Omar Miller and another source linking the Cowboys in the mix for an expensive running back.
Doug Martin is mentioned as a possible target along with Matt Forte, as many reports link Dolphins running back Lamar Miller jumping ship to the Houston Texans when the free agency dinner bell rings this afternoon at 4 p.m.
It's noted that the Cowboys have no intention of paying DeMarco Murray money, defined as last year's vault dump by the Eagles, which gave Murray just over $20 million guaranteed. Murray was extracted from the Cowboys.
But it seems like $7 million a year and just under $20 million guaranteed might be the top of the market for Martin now after yesterday's reports, which included reigning AFC leading rusher Chris Ivory preparing to be signed by Jacksonville.
Jerry Jones can dangle quite a sales pitch, with no state income tax, a ferocious offensive line, and Tony Romo and Dez Bryant returning healthy (allegedly).
It's a Tums and Valium waiting game for Bucs fans this morning.