The Biggest Reason To Dump Mike Glennon
March 17th, 2016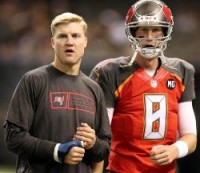 Careful, you'll need at least a quality eighth-grade education to understand the following breakdown.
Nothing in the NFL is more overrated than winning meaningless games. Victories in those games destroy draft position.
And considering the massive bounty teams pay to move up even one spot in the first-round of the NFL Draft, losing meaningless games is pretty darn valuable.
Yeah, paying fans don't want to hear it, but that's the cold reality.
That brings Joe to Mike Glennon, who is in the final year of his rookie contract and is certain to leave Tampa seeking a starting-QB opportunity.
For nearly a year, Joe has screamed for the Bucs to trade Glennon and recover a draft pick. One easily understood reason is that the Bucs are not a Super Bowl team and, therefore, Glennon's presence is useless. Without Jameis Winston playing, the Bucs are doomed to a rough season, a season that wouldn't bring a trophy anyway. So what's the point of keeping Glennon until he walks out the door?
But the bigger reason to dump Glennon is because the Bucs shouldn't want a quality backup winning a meaningless game for them. Glennon is the kind of guy who could do just that.
The Bucs are more in need of a miserable backup who can secure their best draft position (See 2014 and the Chase for Jameis).
It's preposterous to want to keep Glennon (in 2016) because he's a great backup. It's a self-mutilation plan.
Consider what Eagles general manager Howie Roseman said this week. He explained that Philadelphia traded with Miami to move up to the No. 8 pick of the first round this year because the draft-worthy talent seriously falls off after the No. 10 pick.
Joe reached out to three key sources on this, and everyone of them agreed with Roseman, who has a reputation of being a kook.
This just illustrates why the Bucs need to ditch Glennon in a hurry. The Bucs don't need a Grade A backup this year potentially screwing up their 2017 draft before he leaves.
Potential better draft position, through the entire draft, is much more valuable than the pick a Glennon trade would return. And they can have both!
Of course, none of this makes sense to fans who believe the Bucs are a Super Bowl contender this season. For those folks, Joe wishes you all another great day of sunshine, lollipops, rainbows and ice cream.
Joe believes the Bucs will improve and can find themselves in a Wild Card hunt in Week 16 or 17,  but anything beyond that is pure fantasy.