"It's Already Began"
March 17th, 2016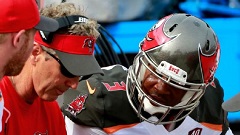 America's Quarterback, Jameis Winston, hit the local airwaves today to promote his new football camp.
Naturally, Jameis talked Bucs, too.
Yes, Jameis says he's fired up for the kids coming to his June camp, and he emphasized "it's for girls, too." Jameis told WDAE-AM 620 that he can't wait to coach up the kids.
On the football front, Jameis talked about how quarterbacks coach Mike Bajakian pushed him so hard last year, and Jameis volunteered that he was pushed harder than he was at Florida State University.
One offseason personnel move has Jameis pumped up.
"So happy to get Doug back," he said. "We got all the pieces there. We just got to get over that hump, and I believe we will."
On working on his own with Bucs receiver before the team reports back to work, Jameis said, "it's already began."