Stop Insulting Team Glazer With "Victim" Talk
March 16th, 2016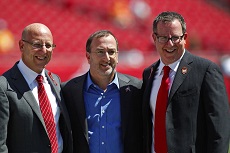 Joe can't believe the nonsense-peddling circulating around town.
The latest edition comes from columnist Tom Jones of the Tampa Bay Times.
Jones is struggling to swallow why Lovie Smith was fired. Jones has a bad taste in his mouth — after Lovie made Bucs fans drink sewer water for two full years. How ironic.
Jones spent a load of time on WDAE-AM 620 radio this morning hammering away at Team Glazer, and in the newspaper today  like some kindergarten girl demanding to know why she was punished after pulling her sister's hair, lying to her grandmother and kicking the dog.
Everything Smith hoped the Bucs would do — everything he planned for the Bucs to do — is being done. The only problem? It's being done for new coach Dirk Koetter, while Smith is off to salvage what is left of his coaching career at a second-tier Big Ten school.

This whole fire-Lovie-hire-Dirk deal is looking messier and uglier by the day and you know who is to blame for the bad look? The Glazers.

They're the ones who fired Smith, although they have yet to explain their reasons, leaving it up to general manager Jason Licht to do the dirty work even though it wasn't Licht's decision to fire Smith.
You can click through above and soak in everything from Jones.
Maybe Joe is missing something, but this assault on Team Glazer is very misguided.
Lovie won three home games in two years. Lovie's team went flat with a four-game losing streak to close last season. Lovie's third-down defense was the worst in Bucs history over the past 20 years. Quarterbacks, including plenty of bad quarterbacks, completed 70 percent of passes against Tampa Bay. Joe could go on and on. Team Glazer acted like sane, thoughtful businessmen: They concluded Lovie was unfit for Super Bowl duty and moved on.
There really was nothing to say.
Simple as that.