Nostradominik
March 16th, 2016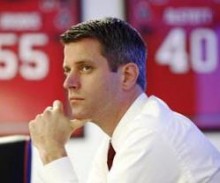 These days, former Bucs rockstar general manager Mark Dominik is a popular ESPN analyst. Dominik is sort of ESPN's No. 2 house GM behind Hall of Famer Bill Polian.
Dominik is not known for bold, put-your-foot-down claims, but he issued one today that ties to the Bucs.
On Twitter, Dominik slammed his gavel down on a take he's been floating for months. The Dallas Cowboys will draft a quarterback with the No. 4 overall pick next month. Dominik claims the Dolphins signing QB Matt Moore to a backup deal yesterday further confirms it.
Why does Joe care?
The Bucs draft at No. 9 overall and are yearning for the Cowboys to snag a QB at No. 4. The Bucs don't need a quarterback, thanks to Josh McCown winning the Chase For Jameis. So every QB drafted ahead of the Bucs just pushes more elite talent in their direction. More filet mignon on the buffet.
Most mock drafts don't think the Cowboys will draft a quarterback that high because Tony Romo plans to return healthy for opening day.
Joe's hoping the ex-Bucs personnel chief is right and becomes a true Nostradominik.