Report: Niners, Jags And Doug Martin
March 8th, 2016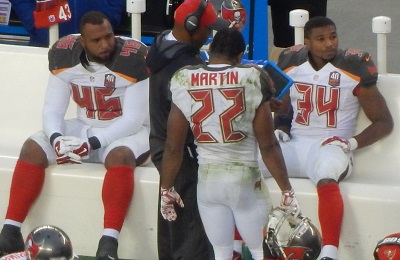 Whoa! Action is heating up as the free agency dinner bell prepares to ring tomorrow at 4 p.m.
One reason Joe is often quoting buzz from Ian Rapoport is because he works for NFL Network, which is owned by the NFL and Joe knows general managers are told it's in their job descriptions to cooperate with Rapoport. Essentially, he has a largely unimpeded pipeline to teams and their inner workings.
This morning, per NFL.com, Rapoport is talking about Doug Martin and the 49ers and Jaguars.
Another team to watch on Martin is San Francisco, per Rapoport. Martin would be an intriguing fit with Chip Kelly and could pair well with Carlos Hyde. Martin owns the lateral agility Murray lacked to succeed on Kelly's stretch runs. We also know that Kelly isn't shy about adding big-name, high-priced runners with an injury history. Would Trent Baalke go along?
Later in that post linked above is where the Jags are linked to Martin. Frankly, the Jags are linked to every big free agent, it seems, because the team has such a massive amount of cap room and appears poised to benefit from key acquisitions to their already explosive offense.
It's about time for that 11th-hour offer from the Bucs.