Report: Lovie Smith Lining Up New Job
March 5th, 2016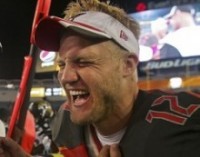 Ordered to remove his belongings from One Buc Palace two months ago, Lovie Smith seems eager to leave the NFL for the remainder of his coaching days.
Per various sources, including Bruce Feldman at FoxSports.com, Lovie is the frontrunner to be named head coach of the University of Illinois football program.
But there's a very interesting sub-head to Feldman's story: "The former NFL coach could be wooed if he can add his sons to the Illini staff."
Hmm, you mean nobody else in the NFL wanted Lovie's sons on their staff? What a shocker!
News of Lovie heading to Illinois is somewhat surprising, considering Lovie has been an NFL guy for 20 years, and he seemed so sure the Bucs were on the right track and growing by leaps and bounds. Also, Lovie has $10 million left to be paid by Team Glazer. Joe would have thought Lovie would sit out 2016 and hope to be interviewed for another NFL job.
Perhaps Lovie, who turns 58 in May, realized coaches rarely get a crack at an NFL head coaching job with a third franchise.
Joe wishes Lovie well. And Joe is saving his nickels to wager against Lovie's pass defense next season.