Bucs Pass On Franchise Tag For Doug Martin
March 1st, 2016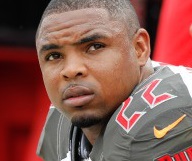 Buccaneers overlord of football operations Jason Licht has rolled a big pair of dice.
An NFL Network report and a claim via the Around The NFL Twitter feed say the franchise tag period is over for 2016. No more activity, which means Tampa Bay did not/will not slap the franchise tag on Doug Martin by today's 4 p.m. deadline.
Martin could become a free agent in eight short days. Other NFL teams can start pre-negotiations with him in six short days. However, the Bucs still could re-sign Martin at any time.
Joe doesn't want to hear anyone cheering this decision by the Bucs.
Joe wants Martin to return, and the franchise tag was a solid move from Day 1 for a Bucs team projected to have more than $50 million in salary cap room for 2016. The franchise tag was tailor-made for a guy like Martin, who has been inconsistent in his career but is coming off an outstanding season. And the Bucs are in no position to let talented players walk out the door for no good reason.
On Twitter, Joe noted the Bucs could have tagged Martin at the $11.8 million mark for running backs and still had more cap room than 22 other NFL teams entering the start of the 2016 season.
Get a deal done, Licht!
Your head coach, quarterback and most fans all want Martin back.