Mario Williams Is A Free Man
March 1st, 2016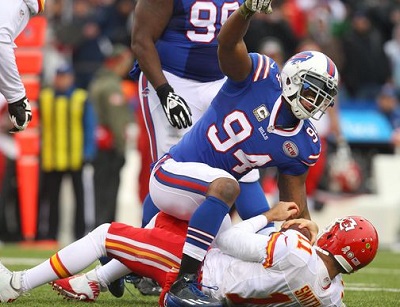 Where's that infamous Team Glazer jet that flies in prospective free agents the moment they're available?
A ferocious, proven pass rusher is on the market right now. The Buffalo Bills just cut the massive contract of Mario Williams from their roster. The beastly defensive end who turned 31-years-old last week is a free man.
Williams did not work/fit in Rex Ryan's defense, but Williams was an animal in Buffalo during the previous three seasons, all double-digit sack years in a 4-3 defense. Had had 38 sacks from 2012 through 2014.
What does Joe like about Williams, the former No. 1 overall pick in 2006? He's missed just one game since the start of the 2012 season. And all those sacks are nice, too.
The Bucs have the cash, and the interior rush to make an edge guy like Williams effective.
Joe will vomit if Williams is wearing Panthers blue next week.