"Never Really Was A Weight Lifter"
March 4th, 2016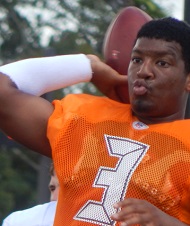 Dirk Koetter is very clear. He wants a stronger commitment from America's Quarterback, Jameis Winston, and Mike Evans when it comes to their bodies.
Joe wrote all about Koetter and Evans yesterday.
Regarding Jameis, Koetter told SiriusXM NFL Radio last week that Jameis had an excuse for not having an A-list body as a rookie. But Koetter appreciated how Jameis battled without it.
"People forget about Jameis, because he was a baseball player through his time at Florida State, he never got in and never really was a weight lifter," Koetter said. "You know Jameis, you wouldn't think if him originally as a guy who has a great body, but he's a big guy and he's a strong guy. When you see the tackles he breaks the way he can scramble, and the hits he can take, but when he does get a chance to do some work with that body, I think he's only going to get better and better. He's off to a great start this offseason."
Yes, Jameis is "country strong," as some fans like to say. That's very nice, but country strong and weight-room strong are a much better combination.
Word on the street is Jameis is working with Michael Jordan's trainer, and at the NFL Scouting Combine, Koetter said joint workouts with Jameis and Evans are "in the works."