"$7 Million Is The Max" For Doug Martin
March 4th, 2016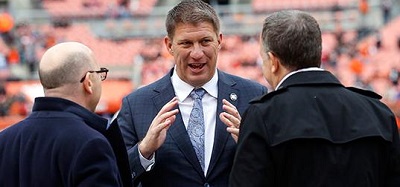 Longtime NFL writer Mike Garafolo of FOXSports.com, also a talking head on FS1, is convinced he knows what's going to happen with Doug Martin.
At least he was a few days ago.
Garafolo joined a FOX podcast and explained that he's sure Martin will re-sign with the Bucs but "$7 million is the max" per year. Martin and his camp, Garafolo said, must realize that they'll have accept "south" of the $20 million guaranteed and the $8 million per year that DeMarco Murray fleeced the Eagles of last year.
Garafolo was firm in his speech, and keep in mind he just returned from mingling with agents and general managers at the NFL Scouting Combine in Indianapolis.
This is comforting, though it clashes a bit with Mike Florio just saying Martin should expect a $4 million-per-year market for his services. Former Bucs rockstar general manager Mark Dominik also recently said $6 million per year was an expected max for Martin.
Welcome to the silly season.
If Martin isn't on the Bucs this season, well, then look for Joe at the nearest ER.