Mike Williams On The Comeback Trail
March 30th, 2016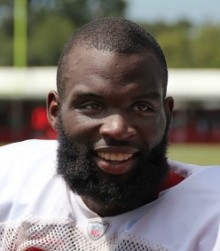 Mattress-in-the-yard, blade-in-the-thigh, stripper-pole-showcasing, Tampa-Bay-Times-persecuted Mike Williams, one of the greatest young receivers ever to wear Buccaneers colors, had a workout today for a new job.
And where else to do former Bucs go to revive their careers? The Belicheats.
Per ProFootballTalk.com and the Boston Globe, Williams worked out with New England today on the heels of their signing 2009 Bucs seventh-round pick E.J. Biggers.
Williams, the Bucs' outstanding fourth-round pick in 2010, was booted by Buffalo midway through the 2014 season, after general manager Jason Licht traded him there for a sixth-round draft pick. He's been out of work since.
Williams turns 29 in May.
Joe always liked Williams — fun guy to talk to, always had the backs of his teammates, and clearly he put in a ton of work to record three strong seasons for Tampa Bay, 2010-2012 (193 catches and 23 touchdowns). They were no accident, and for two of those years he was cast as a No. 1 receiver when he really was a No. 2.
Joe wishes Williams well.