Inaction Indicts Lovie Smith
March 11th, 2016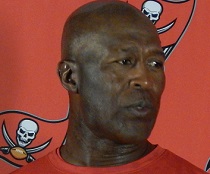 The Bucs have done nothing to bolster their horrid third-down defense of 2015.
All they've done is change defensive coaches.
That's pretty damn telling for a team sitting on north of $40 million in cap room for the 2016 season.
On paper, it seems the Bucs are content with cornerbacks Johnthan Banks and Alterraun Verner, the former was mysteriously benched by Lovie Smith, and the latter was forced to change positions after serving time on the scout team last year.
Lovie's safeties? The Bucs gave a welcome-back tender to starter Bradley McDougald, and word on the street says they want Chris Conte to return. Head coach Dirk Koetter even named Conte at the NFL Scouting Combine as a valuable performer.
The Bucs have shown no apparent interest in bagging a premier defensive back in free agency. What does that say about Lovie, the ousted defensive coordinator/guru/head coach?
Jot thinks that's one ugly indictment of Lovie's inability to get the most out of players, you know, like "the intelligent coaches can do."
Yes, Joe realizes the Bucs are primed to draft a defensive end and a cornerback, but this week's inaction is telling.