As Expected, Two Years Of Guarantees For Martin
March 11th, 2016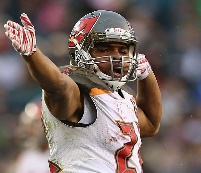 So details emerged on Doug Martin's contract. The real stuff, not the fluffy five-year contract totals.
Per Aaron Wilson of NationalFootballPost.com, Martin is guaranteed $8 million this season, plus $7 million in 2017. And that's it.
There also are performance incentive monies available through those first two years for Martin, the amount of which is unclear. After 2017, the Bucs can cut ties with no loose ends if they don't want to keep paying Martin big Bucs in 2018.
Joe is rooting for Martin without question. But Joe doesn't want to hear one fan cry this time next year if Martin has a so-so season and the Bucs appear stuck with him for 2017. Tampa Bay could have franchised Martin for $11.75 million and minimized its risk.
Instead, the Bucs chose to invest more/gamble on Martin. Let's hope it pays off.