Counselor Jameis
March 17th, 2016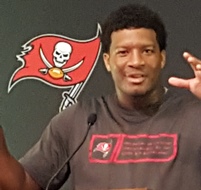 Look at America's Quarterback, Jameis Winston, seizing a chance to work with hundreds of our community's children.
The announcement came yesterday. Jameis will host his first youth football camp, June 20 and 21 in Land O' Lakes.
And Jameis won't just be a figurehead. Per camp details at JameisWinstonCamp.com, potential registrants are advised they will "learn from and interact with Jameis Winston."
More and more corporations are jumping at opportunities to join Jameis. Citi, the bank, is a title sponsor of this event. Many pundits thought that would never happen and painted Jameis as a monster upon his arrival in Tampa.
Joe expects no shenanigans at the camp, not like the last time a Bucs franchise quarterback hosted a youth camp.