"Rambling" Freeman "Didn't Sound Right To Me"
June 21st, 2013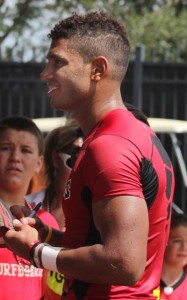 After Josh Freeman's interview on Ron and Ian on WDAE-AM 620 yesterday, several Bucs fans remarked to Joe, "That didn't sound like Freeman."
Most were referring to Freeman sounding extremely relaxed and uncharacteristically revealing.
Joe was somewhat surprised, too, mostly because Freeman usually doesn't offer much detail and substance, but yesterday he dropped good nuggets. Joe documented Freeman's respect for Dashon Goldson and Freeman's scouting report and deep praise for Danny Noble, and Joe has more to come.
Tampa Bay Times Bucs beat writer Rick Stroud took the analysis a step further.
Stroud also co-hosts the Sports Page on WDAE-AM 620, where today he said Freeman "didn't sound right to me" and Freeman was "rambling" at times. Co-host Tom Jones and Stroud also found Freeman's comment about his personal life and contract curious. "I've got stuff weighing on my mind, but very little of it has to do with a contract year," Freeman said.
Joe can't go here, there, or wherever some might want to. It's mid-June, and Freeman should be thoroughly relaxed and at ease. The guy's a five-year veteran of hundreds of interviews and he should embrace showing a less guarded side of himself as a face of the franchise.
Below you can listen to a cut of Freeman plus the full Sports Page analysis.