Collinsworth Puts Vernon Hargreaves On Bucs
March 15th, 2016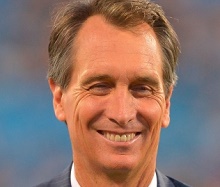 Nerd-in-chief former Gators receiver and current NBC Sports voice Cris Collinsworth has plenty to say.
In fact, the major investor in stat-geek kings Pro Football Focus has penned his first mock draft.
Joe must say it's very good as mock drafts go.
Collinsworth says the Bucs go cornerback because there won't be a pass rusher available that fits their draft position.
9. Tampa Bay Buccaneers: Vernon Hargreaves III, CB, Florida

If I had a pure pass-rusher that I loved here, he would be the choice for Tampa — but I don't, so if you can't rush the passer, you better cover the receivers. Hargreaves will be a good player for years, and his Florida roots will make him less likely to leave Tampa Bay in free agency. I'm a little worried about Hargraves' 4.5 40-yard dash speed, but he is a player whose competitive nature will always make him valuable. He showed explosiveness with a 39-inch vertical and is a nasty competitor who finds the ball. Hargreaves has notched 10 interceptions in his career and loves contact. He should be a real asset stopping wide receiver screens. However, with a lack of make-up speed, teams will test him on double moves, where his confidence and quickness could work against him. Corners and pass-rushers come off the board first, so Hargreaves goes in my top 10 despite some reservations.
Joe's not someone who believes the Brent Grimes signing means the Bucs would not draft a cornerback in the first round next month.
You can never have too much depth and talent at corner. And keep in mind Johnthan Banks is in a contract year and Alterraun Verner is highly paid but hasn't produced in two seasons.