Buccaneers Sign Guard J.R. Sweezy
March 9th, 2016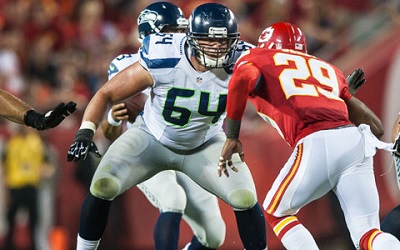 Here comes another Super Bowl ring to your Buccaneers' roster.
Tampa Bay has paid guard J.R. Sweezy, who turns 27 in April, to leave Seattle and head to Tampa. Sweezy started 46 games over the past three years for the Seahawks.
What's odd and interesting is that Sweezy played right guard there, and the Bucs have Ali Marpet at right guard. However, Sweezy is a converted defensive lineman, a seventh-round pick in the 2012 NFL Draft out of North Carolina State. He's an athletic dude known for his run blocking, and clearly the Bucs think he can be versatile.
Joe thinks it's obvious that Sweezy will compete at left guard in the battle with Kevin Pamphile to replace Logan Mankins. And the Bucs might get real serious quickly in training Marpet at center.
Marpet often was the No. 3 center in practices last year. Joe's not saying Marpet will make the switch in 2016, but Joe could see him being the backup center this year.
Just keep Sweezy off the local buses, and all should be good.