"Why Am I Voting For A Guy Who Won One Super Bowl?
February 17th, 2016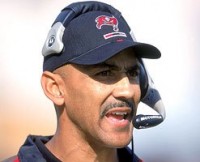 So how did Father Dungy get elected to the Hall of Fame during his third crack at glory this year?
The Custodian of Canton, eye-RAH Kaufman, the Tampa Bay area's only Hall voter, exposed part of his strategy presenting Dungy two weeks ago.
Speaking on WHBO-AM 1040 last week, Kaufman explained that the repeated negativity fired at Dungy from Hall of Fame voters in previous years could be summed up by one question: "Why am I voting for a guy who won one Super Bowl?"
Multiple Super Bowl winners like Jimmy Johnson and Tom Flores have no gold jacket, Kaufman noted, so he had to attack the primary objection immediately in his pitch for Dungy.
"I started off [my presentation] saying, 'Yes, Tony Dungy won one Super Bowl. One. That's one more than the combined totals of Mr. Marv Levy, Bud Grant and George Allen. So you want to kick those guys out of the Hall of Fame? Of course not. That's not the way we judge Hall of Fame coaches. We judge them by impact,'" Kaufman said.

"Once you know the objections, that allows you a little bit of an advantage second and third time around because you know what's on the minds of the people in that room. And you better address it. You can't let it go like it doesn't exist."
Kaufman also said a key nugget presented was winning an average of nearly 11 games per season, best ever after Jim Harbaugh's short run in San Francisco.
Joe gets it, though Joe was not on board when Kaufman said Dungy's coaching tree, Mike Tomlin, Rod Marinelli, Lovie Smith, etc., was a factor as it relates to Dungy's impact on the game. Coaching tree? Really?