What Draft Coverage Should Be?
February 20th, 2016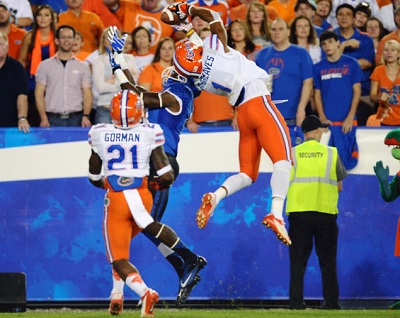 Joe appreciates the many thousands of readers who come here daily to learn what Bucs-junkie, beer-drinking, grill-stuffing Joe shares about the Bucs.
However, Joe soon will be out of business if more of the following continues.
What Joe's talking about is beautiful women breaking down football — on video — well produced video. This slowly growing trend troubles Joe the businessman, but warms the heart of Joe the football fan.
Below, you'll find one of the latest draft profiles by Amanda Borges, working for Gridiron Now. She takes a look at an intriguing athletic cornerback very familiar to Gators fans, Mr. Vernon Hargreaves. While the NFL Scouting Combine next week is basically underwear Olympics and medical examinations, it will be interesting to see how big/small and fast the 20-year-old Hargreaves really is.
As many NFL personnel folks will tell you, just because a guy is listed in college at 5-11, like Hargreaves was, doesn't mean the tape measure won't say 5-9. Quality measurable likely will keep Hargreaves as a consensus top-15 pick. The Bucs pick No. 9 overall.
Enjoy the video.