The Bucs And James Laurinaitis
February 20th, 2016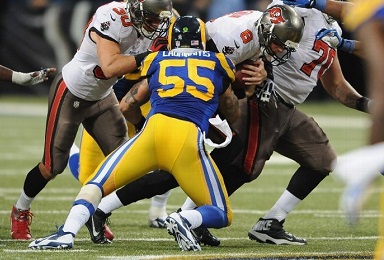 Two indisputable facts: the Bucs' new defense under Mike Smith is one giant mystery, and the Bucs need talent upgrades on defense.
Quality middle linebacker Jameis Laurinaitis was cut yesterday by the Rams. One of the more underrated players in the NFL for years, the longtime Rams captain hasn't missed a game since entering the NFL as a second-round pick of St. Louis in 2009.
He never made a Pro Bowl, but multiple times Laurinaitis was voted by his peers to the NFL Network Top-100, which annually honors and ranks the best players in the league.
Joe thinks the Bucs should take a long hard look at Laurinaitis, who told ESPN yesterday that he believes is still productive.
Business, the 29-year-old Laurinaitis said, is what sank him. He was scheduled to earn about $9 million this season.
Is Kwon Alexander best suited for middle linebacker in Mike Smith's defense?
Danny Lansanah is about a year and a half older than Laurinaitis and will be a free agent if the Bucs don't re-sign him in the next 18 days. Can Laurinaitis be versatile? And again, what does Mike Smith's defense look like?
As a veteran, getting cut means you're immediately a free agent. The Bucs can bring in Laurinaitis right now for a long sniff and a workout. Joe would have to think Laurinaitis would be jazzed to play alongside two quality linebackers like Alexander and Lavonte David.
Of course, as a starting point, the Bucs' supreme talent evaluators would have to like what Laurinaitis put on film last year.