Value Play For Jermaine Kearse
February 17th, 2016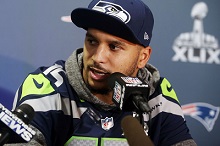 As this post is typed, Joe sits before a plate of Hooters boneless wings pounding the lunch table and demanding Jason Licht upgrade the Buccaneers' receiving corps in free agency.
America's Quarterback, Jameis Winston, deserves the help.
Why should the Bucs gamble on Mike Evans losing his K-Y hands?
Why roll the dice that Vincent Jackson will return to form after knee issues at 33 years old?
Why should Tampa Bay count on Louis Murphy reviving after ACL surgery in November?
Can anyone expect anything from Kenny Bell before he catches his first career preseason pass?
The Bucs need to invest at wide receiver. Simple as that. There's no reason to fear having a dominant offense.
One potential free agent worthy of scrutiny is Jermaine Kearse of the Seahawks. The former undrafted receiver caught 87 balls the past two seasons and has performed well in the playoffs and Super Bowl.
What's not to like? NFL.com tabs Kearse as an extreme value.
At 26, Jermaine Kearse might be the type of ascending, plug-and-play receiver that teams are looking for at a fair price. Kearse increased his number of receptions each of the last three years and he finished with a career-high five scores in 2015. The Seahawks routinely received flak for their lack of star power on the outside, but it was because of intelligent wideouts like Kearse and Doug Baldwin that Seattle operated so smoothly. The team let Golden Tate walk in free agency two years ago and Tyler Lockett is starting to command a bigger role in the offense. Seattle loved having Kearse at the RFA tender salary of $2.356 million last season, but will they go any higher? Per contract analyst Joel Corry, a good No. 2 receiver in this market could be asking between $5 and $6 million per year.
Joe is drooling. And it's not the wings.
Speaking at a charity event yesterday, Kearse explained to The News Tribune that his Seattle future is quite uncertain.
Yes, Kearse can blend with V-Jax and Evans. Remember, the Bucs have an offensive coordinator who knows how to maximize talent and play with three wide receivers.