"Real Football" Mock For Hargreaves
February 29th, 2016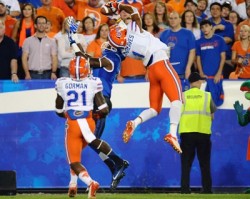 Some (not many) mock drafts get Joe's attention.
Included is that special group is what comes today from former 11-year NFL quarterback Jim Miller, who co-hosts Movin' The Chains (aka the greatest all-football show around) on SiriusXM NFL Radio.
Miller also works for the Bears and calls their preseason games, was a longtime voice for Michigan State football, and is found online at the special RealFootballNetwork.com.
Miller pumped out his first 2016 mock draft this morning. And it's yet another having the Bucs pluck Gators cornerback Vernon Hargreaves off the board at No. 9 overall.
6. Baltimore – Jalen Ramsey, CB, FSU
Ramsey is the big corner John Harbaugh has been looking for to upgrade his secondary. Ladarius Webb will most likely be released.

7. San Francisco – Paxton Lynch, QB, Memphis
As of right now, it looks like Colin Kaepernick no longer wants to be a 49er. Trent Baalke and Chip Kelly say they expect him to be there, but if Kaepernick doesn't understand that Kelly's is the best offense to resurrect his career, then the team needs to move on!

8. Miami – Deforest Buckner, DE, Oregon
Olivier Vernon is likely gone. Great! Get a stronger strong side DE who can get sacks, pressure, and free up Cam Wake when he gets healthy.

9. Tampa Bay – Vernon Hargreaves III, CB, Florida
Aggressive do-it-all cornerback who stops the run as well. Hello Carolina? This kid will not be afraid to stick his nose in NFL's best rushing offense in Carolina with Jonathan Stewart or Cam Newton.
A tiny part of Joe's soul dies every time the Bucs are projected to draft a  cornerback. Why? Because Darrelle Revis, a surefire Hall of Famer, should still be on the Tampa Bay roster.
That aside, Joe has written loads about Hargreaves over the past two days, while live at the NFL Scouting Combine. Head back to the home page for an education. Joe could see the Bucs pulling the trigger on him. But man, manbeast defensive end DeForest Bucker (No. 8 above) would feel so much sweeter.
What's comforting about Miller's mock is that it has three quarterbacks going in the top-7 overall picks. The Bucs desperately want that scenario to play out.