Praising (Allegedly) Evil Free Agency
February 16th, 2016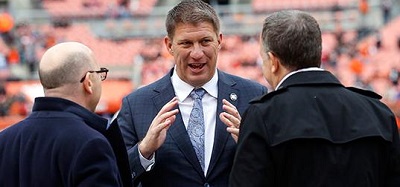 With the chiming bells of free agency freedom set to ring in 22 short days, Joe realizes many Bucs fans think free agency is the devil that leads a team down the "dark path" Team Glazer referenced seven years ago.
Baloney!
What kills teams is failing in the draft and picking the wrong free agents. That's the lethal combination. Just stop picking the wrong guys! Simple as that.
Look at the Super Bowl champion Broncos with DeMarcus Ware, Aqib Talib and T.J. Ward running wild and dominating in their defense. Both were vault-busting free agent signings by Denver in 2014. Only 19 players on the championship roster were with Denver when it lost the Super Bowl to Seattle in 2014.
Never mind what Seattle did by busting the bank for two free agent defensive ends, Cliff Avril and Michael Bennett, who the Bucs let walk away (all together now) for no good reason.
Last week, Broncos superstar outside linebacker Von Miller, the Super Bowl MVP, spoke eloquently on SiriusXM NFL Radio about how Ware was the big difference-maker on the roster because he showed so many players how to be professional and approach their work with extreme focus. Miller explained how Ware won't even come to a spring practice in sweatpants. It's always all business and dedication to every detail.
Ironically, Bucs honchos and players have often said similar things about Vincent Jackson and Logan Mankins, two guys not drafted by the Bucs. Oh, what a horror it was to bring in Jackson and Mankins.
Of course, Joe is not in favor of flushing money down the toilet on garbage players that drag the team down (See 2014). But playing scared in free agency based on the past is not a winning formula. It's a loser's anthem.
The Bucs have many holes, and they have a giant pile of money available to spend. Significant dabbling in free agency this year is a no-brainer.