Kill The "Can't Overpay" Argument
February 15th, 2016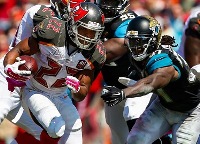 Joe literally shakes in disgust when Bucs fans bark about how Tampa Bay "can't overpay" for Doug Martin, as if there's some sort of magic formula of salary cap management.
Hell, the counter argument lives on their own team.
Meet Vincent Jackson. He's due just under $10 million in 2016, the final year of his five-year free agent contract. On paper, Jackson is not worth the money. At 33 years old, he's coming off a season in which he played half the year and had two knee injuries. He's good, but not the player once was.
But the Bucs need Jackson. He is a critical cog in the offense. That was painfully obvious last year. Barring a last-minute change of course, the Bucs will and should pay Jackson for 2016 — with no guarantee of him returning in 2017.
Why shouldn't Martin at least be paid $11 million (the franchise tag value) for the same one year support Jackson will bring?
People cite Jackson's great leadership, but be real. The Bucs have four consecutive last-place finishes under Jackson's captaincy. They can lose without him.
Martin's leadership is never mentioned. But his tremendous work ethic and success last year, and grinding through nagging injuries in 2014, had to be a strong influence on Charles Sims.
Bringing back Martin for 2016, for this team, for this head coach, for this quarterback, should be a no-brainer that has nothing to do with money.