Kwon: "We Need To Get Some More Guys"
February 11th, 2016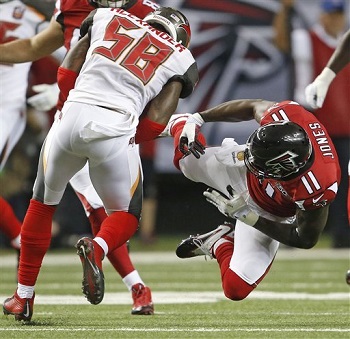 The youngest member of the Buccaneers, 21-year-old emerging linebacker Kwon Alexander, has big ideas for general manager Jason Licht.
Young Kwon took to the WDAE-AM 620 airwaves yesterday with Ronnie & TKras and asserted his desires and shared what some might consider inside draft information.
Alexander was asked if the Broncos' Super Bowl pass rush revealed the secret to success in the NFC South.
"We need to get some more guys to, you know, to get some push on the quarterback," Kwon said of the Bucs' offseason needs. "I think that's what we're going to be drafting this year, defensive ends. We had great defensive ends this year, but we need a little more help. So whoever we can get, you know, we're going to need that pressure to get Cam [Newton] and, you know, try to get to the Super Bowl this season."
The stats nerds might not like this, but the Bucs had 38 sacks last year, 14th-most in the NFL, yet it was clear to anyone paying attention that the pass rush was inconsistent and too often absent.
Joe's glad Alexander is clear on the Bucs being seriously deficient in that area.
Who led the league in sacks? The Broncos, with 52.
Hear Alexander's full interview below: