Jameis Came "Media-Ready"
February 11th, 2016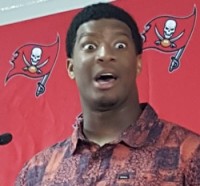 There's no Cam Newton in America's Quarterback, Jameis Winston, according to one prominent national NFL analyst.
Very interesting chatter yesterday on the always great Movin' The Chains on SiriusXM NFL Radio, with former Jets personnel chief Pat Kirwan and former longtime NFL quarterback Jim Miller.
A Bucs fan called in and essentially wanted to know if Jameis had the maturity and coaching to avoid the media nightmare Cam Newton is absorbing since the Super Bowl ended.
Miller was adamant that Jameis arrived in Tampa not only NFL-ready but "media-ready," unlike Newton coming out of college. Miller, who attended last year's NFL Scouting Combine, explained that Jameis' performance before about 1,000 media members there, following massive off-field scrutiny at Florida State University, should let everyone know that Jameis is a media savvy veteran.
Miller added that Jameis' additional experience this past season, with coaching from the Bucs' PR department, should leave Tampa Bay fans confident Jameis can handle the any pressure thrown his way.
Joe agrees with Miller, and Jameis sure was great under the bright lights at the Combine podium last year — with no team PR person providing cover. But Joe doesn't think fiery Jameis, or anyone, is perfect. Might Jameis screw up in the media. Sure. Big deal.