Kwon Sets Extreme Goal
February 12th, 2016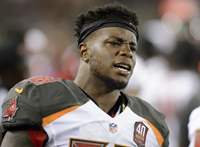 Gerald McCoy is talking MVP for America's Quarterback.
Kwon Alexander seems to have the same thing in mind — for himself.
The Bucs' 21-year-old ferocious linebacker, who had his season cut four games short by the NFL, courtesy of the wrong energy drink (allegedly), is not satisfied with a comfortable role alongside Lavonte David.
Alexander told Ronnie & TKras that his offseason will be a brutal affair.
"Man, I'm going to be grinding so hard," Alexander said on WDAE-AM 620. "I'm going to be grinding harder than I ever have. Because, you know, I gotta come back strong.

"I'm trying to be one of the best players in this league. So what I'm trying to do and what I'm trying to accomplish, I gotta grind for it."
Joe likes the extremely lofty goals, especially for an undersized linebacker with little experience. The Bucs need so much more of that attitude.
Joe hopes Alexander stays glued to David as much as possible during the offseason. Clearly, David keeps his body in great shape and has proven durable. David knows how to train.
And perhaps Alexander's mental toughness (outside of picking energy drinks) might be a good thing to rub off on David, who has had his share of mental meltdowns.