Koetter Will Do It His Way
February 27th, 2016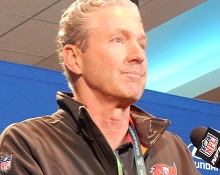 Dirk Koetter is channeling Frank Sinatra.
Koetter told Joe and other assembled media this week in Indianapolis that the best advice he's gotten from other head coaches is about being true to yourself. "Be yourself. Do it your way. And don't forget what got you here," Koetter said.
This is one of the more intriguing elements of the Koetter regime. At 57 years old, Koetter knows he's got one shot at the head coaching job he's coveted for years.
Koetter has close friends coaching alongside him, offensive coordinator Todd Monken and defensive coordinator Mike Smith. And general manager Jason Licht knows and respects Koetter. Licht even hired Koetter knowing that he won't hesitate to blast any of the GM's opinions.
Joe hopes Koetter can stay on his current path and doesn't bend to pressure, which is almost inevitable for every head coach.
In Dirk we trust.