Jason Licht Has Been "Koettered"
January 15th, 2016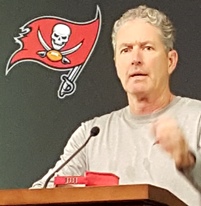 New Bucs head coach Dirk Koetter calls it as he sees it.
That just Koetter, and it's going to make for some very entertaining and intriguing decisions on personnel this offseason.
After Koetter was introduced as Bucs head coach today, general manager Jason Licht was talking about his relationship with Koetter and what he's learned since the interview process.
In short, Licht made it clear that Koetter is not a yes man — not for a minute.
Licht even coined a new verb, saying he's been "Koettered" already many times, referring to Koetter smacking Licht in the face with a strong opinion.
"He's got a very matter-of-fact way about him, which I like. He doesn't mix words," Licht said of Koetter. "In fact, when he comes in and you say, 'What do you think about this?' and he says, 'That's the dumbest thing I ever heard." I walk out and I've been Koettered. So that's a little saying that I have going on."
Licht said he loves Koetter's style and appreciates it greatly. Genuine, clear feedback is what the GM is seeking.
"To be quite frank, he's very good for me," Licht said.
Again, this should be an interesting relationship when it comes to signing free agents and drafting players.