Jameis: College Ball "Doesn't Mean Anything"
February 21st, 2016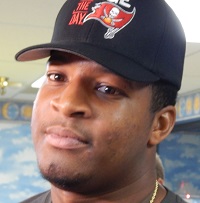 Man, Joe would love to be a fly on the wall when America's Quarterback, Jameis Winston, spends alone time with the Bucs' 2016 rookie class.
Jameis is going to do a great job smacking these guys with reality.
Before the 2015 season finale, Jameis sat down with the Buccaneers Radio Network and talked about being a rookie after a stellar and, at times, controversial college career.
Jameis said he "absolutely" feels like he has to prove people wrong and shut up doubters.
"In college, you know, college is like high school," Jameis said. You know, when you're in high school and you go to college it doesn't mean anything. When you're in college and you go to the pros, it really doesn't mean anything. You know, just with the history of people always want to see someone bust so they can say, 'I told you so.' It's very popular. So guys want to see people fail. But I try to do my best to not give them what they want."
The maturity of Jameis continues to be a mind-blower. It's likely a reason Team Glazer felt comfortable throwing out Jameis' security blanket, fatherly, supportive head coach Lovie Smith.