Bucs Red Flag On Lamar Miller
February 21st, 2016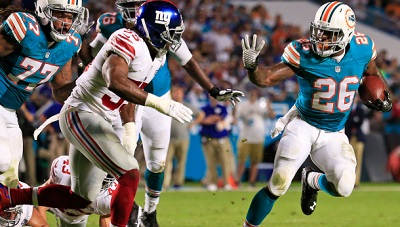 If the Bucs are foolish enough to let Doug Martin walk out of town, then they'll need to replace him.
In that scenario, one has to think Charles Sims will get a shot to win the starting job, while battling whatever free agent running back the Bucs bring in for Martin.
That's only smart. Right? Sims averaged five yards a carry last season, emerged healthy, and he has fantastic hands.
Oh, those beautiful hands. Joe suspects Dirk Koetter will incorporate Sims more into the passing game this season.
That brings Joe to Dolphins running back Lamar Miller. It's pretty clear he will bail on the salary-cap strapped Dolphins when the free agency dinner bell rings in 17 days. But Miller told a Miami sports radio station that he wants to the "featured back" and demands the "recognition I deserve." ProFootballTalk.com wrote all about it.
All that me-first talk from Miller should be a giant red flag for Tampa Bay, assuming they're drooling over the speedy, versatile back, like many NFL teams are.
How can the Bucs bring in a running back who is pounding his chest and saying he deserves the rock? What happens if he has to share carries with Sims and starts whining and crying like a diva?
The Bucs don't need that kind of potential mess.