Franchise Tag Deadline Looms At 4 P.M. Tuesday
February 29th, 2016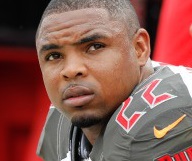 Judgment day truly has arrived for the Bucs and Doug Martin.
There are really only two sure ways to be certain Martin plays for the Tampa Bay in 2016. Slap the franchise tag on him before tomorrow's 4 p.m. deadline, or sign him to a new contract.
The franchise tag effectively would lock down Martin at an $11.8 million salary for the 2016 season, per the NFL Players Association data. (Please don't talk to Joe about the goofy "transition" tag available. It's almost nonsensical, which is why it's rarely used. And it's highly unlikely in the case of Martin.) If franchise tagged, Martin and the Bucs can still negotiate a multiyear contract and tear up the franchise tag. If the tag sticks, then Martin would be a free agent again in 2017.
Joe and many Bucs faithful are holding their collective breath. As Joe detailed yesterday, Team Glazer might need to step in and make sure justice is served and Martin returns this season.
At the NFL Scouting Combine in Indianapolis last week, a prominent NFL personnel man told Joe he believed the Bucs would be very active in free agency on the offensive side of the ball, setting themselves up to draft nearly all defense in April.
The explanation was sound logic. And if true, that offensive spending really should start with Martin.